Profile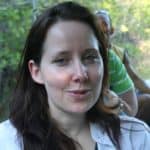 Sian Lawson
Curriculum Vitae
Education:

Awali School, Hordle House, St. Swithun's, Wentworth Milton Mount

Qualifications:

1995-96 University College London Maths, 1996-99 Bristol University BSc Anatomical/Equine Science, 1999-2002 Oxford University PhD (DPhil) Biomechanics

Work History:

Oxford University, St George's Hospital Medical School, Artem Digital, Ecole Nationale Veterinaire d'Alfort, Newcastle University

Current Job:

Movement specialist (Biomechanist) see http://www.imdb.com/name/nm1661108/ for my film work and http://equinemechanics.com/ for horse stuff.

Employer:

Freelance scientist! Affiliated with one University, lecturing for three others and external examiner (checking the standards) for another.
Favourite thing to do in my job: Can I say conferences? I kind of love the crazy travel – I've managed to present science on five different continents and visited places that I never would have thought of visiting. On the other end of the scale I actually love programming. I'm a bit of a hacker and just being left by myself to do hands-on computer modelling is my idea of a great day at work.

My Work

I work out how things move – from visual effects for films, helping hospitals or the police, to studying animal locomotion, mostly horses but there has been the odd polar bear.

My Typical Day

There's a typical day?

Read more

Up until Jan I was a Senior Lecturer at a University so that involved going into an office, giving lectures and running a team of slightly-too-many PhD students. Since then I've gone freelance which means that I still lecture and research but now most days I work from home, have time for my kids, and ride horses at the beginning, middle and end of the day. 😉

What I'd do with the prize money

I want to make a website for schools, and a series of school workshops.

Read more

Go into schools and give (hopefully) fun, inspiring workshops on why skeletons are different in different animals, and talk about being a scientist. They'll be an accompanying website that school children could use after the talk, or even if they hadn't been to one.

My Interview

How would you describe yourself in 3 words?

Small, Smiley and Adventurous.

What's the best thing you've done in your career?

Oh wow – there's such a variety. I've filmed polar bears, helped kids walk and made Oompa Loompas for Charlie and the Chocolate Factory.

Tell us a joke.

How do you know that there's an elephant in your fridge? There are footprints in the butter.

My profile link:
https://ias.im/u.20616
---
---
---